Security Shutters & Grilles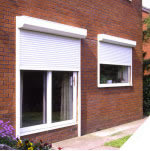 There are several reasons why people invest in security window shutters for their home, office or factory - and they may not be immediately obvious.

Everybody knows that shutters are designed to be burglar proof and for this reason they are the perfect deterrent. Burglars will rarely even attempt to break into premises protected by shutters - whether you decide to protect the whole building or just those more vulnerable areas like patio doors and side windows.

One look will be enough to persuade any burglar to try his luck next door - and they have a similar effect on vandals. That's why good security shutters will save you money in the long run.

Insurance companies know they are one of the best security measures you can ever adopt to protect your premises and will often reduce premiums accordingly.

But one thing that it is impossible to put a price on is peace of mind. Security window shutters, for instance, will guarantee that you will be able to relax when you go away on holiday, safe in the knowledge that your premises are protected when you are not there.

And if looks are important to you, check out our huge range where you will find that practical security measures like shutters can come in a wide range of attractive designs, styles and colours.

At Swindon Door Services, we have it all.